Aquanaut Scuba Diving Adventures
Program Overview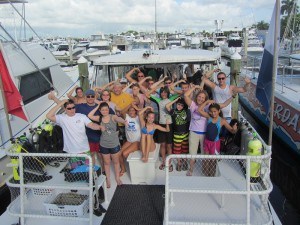 During this two day program (Thursday and Friday), divers, lead by the experienced instructors from Sea Experience, will head out in the early morning and participate in two tank dives aboard the The Sea Experience II, a US Coast Guard certified dive and snorkel vessel. She is a 45′ Corinthian Catamaran with a spacious deck, a glass bottom window and outfitted to accommodate scuba divers, snorkelers and sightseers.
This dive and snorkel boat has many amenities; among which include a large glass bottom viewing window, fresh water shower, marine head (toilet for the landlubbers), rinse buckets for masks and cameras and a spacious deck for both shade and open sun.
These dive adventures will cover two specialty dives such as underwater photography, navigation, Fish ID, or Drift. Your diver will receive a certification in two of these areas listed at the end of this course. Dive locations may vary and is determined by the skill level and comfort of the class and weather conditions. Safety is of utmost importance and the instructors will always ensure that your child is comfortable in the water at all times. Campers MUST have their Basic or Advanced Open Water certification to participate in this program. Copy of a current certification must be provided on the first day of class.
Please see a day by day description below (programming subject to change):
Day 1 – 2 (Thursday and Friday)
8:00am – 8:30am- Drop off at Sea Experience (Bahia Mar)
8:30am – 1:30pm – Boat Trip: Two tank dives each day
1:30pm – 2:00pm – Lunch
2:00pm – 3:00pm – Specialty Course/Classroom
(Underwater Photography/Drift/Fish ID/or Navigation)
3:00 pm-3:15pm Dismissal Pick up from Sea Experience
Dates & Fees
o June 13 – 14: Fish ID & Drift
Fee: $495 per diver
(Includes 4 tanks, boat fees, Specialty Certifications/Processing Fees)
o July 11 – 12: Underwater Photo & Navigation
Fee: $495 per diver
(Includes 4 tanks, boat fees, Specialty Certifications/Processing Fees)