Bubble Makers Scuba Diving Camp
Introduction to Scuba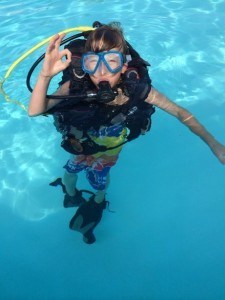 NOW THREE DAYS! Not only will campers ages 8 to 13 be able to participate in our fun camp activities such as canoeing, archery and fishing, they will also receive an introduction to scuba diving as well. On Wednesday, Thursday and Friday of these weeks your Jr. Diver will take their first breath underwater under the direct care and supervision of PADI instructors in a pool setting. In addition, a Camp Live Oak staff will be on hand to assist your child with anything that he or she may need.
Classes will be held at the Bahia Mar pool and campers will learn about and use scuba diving equipment made especially for them. They will also participate in fun underwater games and activities! Maximum dive depth for this program is 6 feet and although your child doesn't have to be a super swimmer, they must be comfortable in the water.
There is a minimum of 4 participates in order to run the program. Maximum is 6 per week. If you are already registered for this class, please click on the link below for additional waivers required by our partner, Sea Experience. Please bring this form with you on the first day of class. You will also receive an email prior to the start of your class with detailed information about your class.
Bubblemaker Waiver/Medical Release
Program Schedule
Day 1 -2
8:30am – 9:00am- Drop off at Camp Live Oak at Birch State Park
9:00am – 3:30pm: Campers will participate in our regular scheduled programming. Please see our Camp Day for details.
3:30 – 3:45pm – Pick Up
Day 3 – 5
8:30am – 9:00am- Drop off at Sea Experience (Bahia Mar)*
9:00am -12:00pm – Bubble Maker Program and Activities
12:00 – 12:30pm – Lunch
12:30 – 12:40 – Head back to Birch State Park
12:45 – 3:30 – Regular Scheduled Programming
3:30 – 3:45pm – Pick up at Birch State Park
*Drop off location may change. You will be notified with advanced notice, by our Scuba coordinator.
Dates & Fees
Bubble Makers Scuba Program
June 14-16 – CLOSED
July 19-21
August 16-18
Fee: $200 per week add on fee