Nestled in between the Atlantic Ocean to the east and the Intracoastal waterway to the west this 310 acre state park is home to one of the last remaining undeveloped barrier islands in SE Florida. With more than two miles of eastern shoreline, Dr. Von D. Mizell-Eula Johnson State Park was once part of the original route traveled by the "Barefoot Mailman" in the late 1800's to about the end of the of century. This natural beach community has beautiful sand dunes and coastal scrubs and hosts a variety of native plants and animal species such as the Seaoats, Royal and Cabbage palms, Giant leather ferns, Florida Kingsnakes, and a variety of shorebirds. The park is also host to a significant nesting turtle population with about 200 to 300 nests occurring each year. Campers will participate and assist in a variety of turtle awareness programs and will undoubtedly get to bid these little turtles a fond farewell as they enter the sea on their new adventure. Within the park is also the infamous Whiskey Creek, once a favorite route taken by bootleggers in the 1920's. Today it is surrounded by native red, white and black mangroves, manatees, White Ibis, and Great blue herons. This is a definite must for canoeing and kayaking enthusiasts.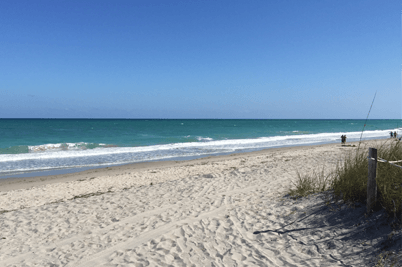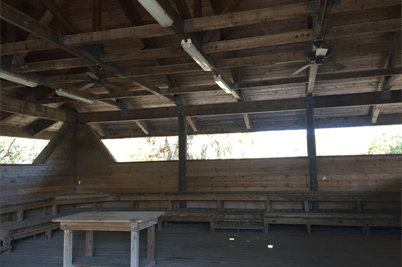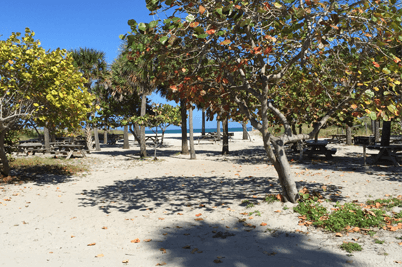 Coastline: Just east of the sand dunes, the strand of Sea Grapes and our Manatee Pavilion (where we will be based), the ocean beckons. Hills of sand provide homes to the sea turtles and ghost crabs and offer our campers a drop-off to the playful currents of the Atlantic Ocean.
Pavilion and Environmental Education Center: The Manatee Pavilion and the Environmental Education Center allow our campers a place to experiment, rest, learn, and retreat. Daily activities, labs and lunch will take place here. During our frequent summer storms, these shelters will be our base – providing us a retreat from the powers of nature. Rainy Day pickups will take place at the Environmental Education Center.
Sea Grapes and Picnic Table: The Sea Grapes and Cabbage Palms that are just west of the sand dunes and the coastline offer us plenty of shade to explore, learn and rest. The late summer purple berries of the Sea Grape provide food for the local residents, the raccoons and birds, as well as a tasty snack for our campers on a hot day.