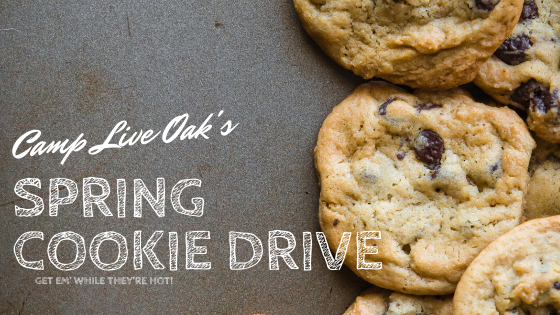 Annual Spring Cookie Drive!
Thank you for your overwhelming Support during this time.  Stay up to date via our social media pages as to future Cookie Drives.
Looking for a sweet treat?  Try one of our delicious, homemade cookies baked fresh daily!  We have a little something for everyone.  Do you have a chocolate sweet tooth?  Then our popular gooey S'mores cookie and Chocolate chocolate chip should hit the spot.  Are you in the mood to go on a cookie adventure?  Then try the Oatmeal apricot pistachio cookie or the Toasted Coconut Chocolate Chip cookie!  Buy by the dozen.  Orders available for local Fort Lauderdale pick up or if you would like to send a sweet treat to a loved one, we ship!
Take a look at the cookie description below and once you are ready to order click on the Order Now button to get started.  Payments and orders will be placed on our Donate page. Please scroll to the bottom and select Spring Cookie Drive and leave your order info in the Comments section.  Cookies are all homemade and made from scratch, thus the turnaround time for most orders will be within one week. Kitchen NOT a nut-free and some cookies DO HAVE walnuts. 
All proceeds will help fund Camp Live Oak during this difficult time and help us prepare for another great summer.  Thank you for your support and enjoy your cookies!
Cost:  $18.00 per dozen (local Ft. Lauderdale pickup).  Add an additional $14.00 if shipping elsewhere.  No Split orders please.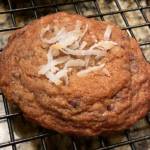 Toasted Coconut Chocolate Chip
How can a melt in your mouth dark Chocolate chip cookie get any better? Let's sprinkle a bit of crispy toasted coconut on top!  With just a hint of tropical coconut, this cookie is destined to become a camp cookie favorite!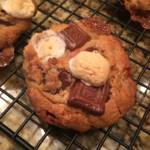 Smore's Cookie
This decadent cookie will take you back to warm, summer nights around a campfire.  Made with gooey dark chocolate morsels and topped with Hershey chunks and mini marshmallows, our most popular camp cookie is guaranteed to put a smile on your face!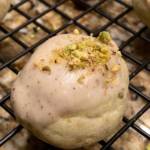 Pistachio Drop Cookie with Brown butter Icing
These pistachio cookies are drizzled with a delicious burnt brown butter, confectionery sugar and vanilla frosting, then sprinkled with crushed pistachios just for good measure. Enjoy them with a cup of tea or coffee or just on it's own, either way can you say mmmmm.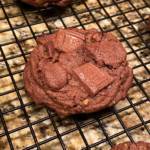 Chocolate chocolate chip
There is nothing better than dipping an ol' fashioned, hot out of the oven, just like my grandmother use to make, Chocolate chip cookie into a cold glass of milk.  This dark chocolate and walnut cookie that will surely leave you asking for one more!
This cookies contains WALNUTS.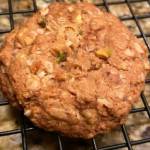 Oatmeal apricot pistachio
This is not your average oatmeal cookie!  This "elevated" cookie is chock full of pistachios and apricot pieces that will make your heart sing!  It's time to step out of the cookie box and go on a new pastry adventure!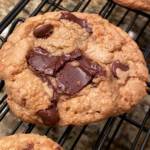 Chewy Chocolate Chip Cookies
Chewy, gooey and moist!  What else can you ask for in a cookie?  Sink your teeth into this delicious morsel filled circle of goodness and remember to leave some for the rest of the family!