Science Of The Sea Camp Sessions
Summer Registration opens Jan. 30th! Join us for our mini Open Houses in April!  Click here for details.  We offer weekly or 3 week session rates throughout the summer.  Please click on the links below to see the weekly descriptions.  Special activities are constantly being updated, so check back often!
Our Mission
The mission of Camp Live Oak's Science of the Sea Summer Camp is to promote environmental awareness and stewardship;  to awaken and stimulate interest in our oceans and the local environment;  and to encourage a love of discovery and exploration using science-based learning and observing.
The Science of the Sea camp experience is for all children curious about the sea…ages 5 to 13 years, and will be held at Dr. Von D. Mizell-Eula Johnson State Park in Dania Beach. This beautiful 310 acre park, nestled  between the Atlantic Ocean and the Intracoastal Waterway,  is home to one of the last remaining undeveloped barrier islands in SE Florida.
This unique and exciting program will awaken the natural scientist in your child…opening up a world of wonder and fascination. The Science of the Sea/Camp Live Oak Staff will be providing a well-rounded, experiential program for your campers…complete with marine science labs, ocean arts and crafts, guest-speakers, ranger-led programs, and fun and educational field trips.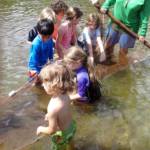 In addition to marine science project labs and field discovery…
Campers will get to know the coastal areas by dip/cast and seine-netting, crab-trapping, plankton-netting, line-fishing, snorkeling, water-testing and by participating in many other activities that provide in-depth observation. Science of the Sea Camp will also bring the opportunity for hand's-on, up close study of marine life via touch tanks and aquariums.  Campers will have the chance to explore the parks waterways by canoe, kayak, and SUP (Stand Up Paddle board). Traditional camp activities such as BBQ, spirit games, swimming, and tug of war will complete your child's camp visit.
In addition, each week will also provide an either an exciting field trip or on-site adventure, designed to reinforce concepts being covered in camp.
Visit us at our upcoming Open Houses, click here for dates and details!
Rates
Summer Camp (ages 5 – 13; 9:00- 3:30pm)
1 Camper (10% Sibling Discount)
Session Rate
$975
Weekly Rate
Receive a $25 Multi-week discount if you register for 3 weeks or more ($325 p/wk)
$350
Ocean Quest (ages 5 – 8)
Discounts not available for this week
$360
Ocean Quest (ages 9 – 13)
Discounts not available for this week
$375
Extended Day
Morning Care (8-9am) per week
$20
After Care (3:30-6:00pm) per week
$70
Both Morning and After Care per week
$85