SEAL Team Scuba Adventure*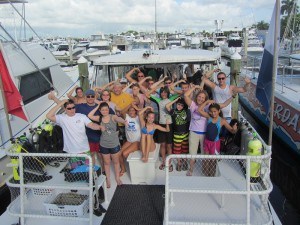 The PADI Seal Team program, a 5 day half day program, is led by the team at Sea Experience, and is for young scuba divers who are looking for action-packed fun in a pool by completing exciting AquaMissions. "Have you ever wondered what it's like to dive with flashlights, take digital pictures underwater or float effortlessly like an astronaut? Beyond learning basic scuba skills, there are specialty AquaMissions, such as wreck diving, navigation, buoyancy, environmental awareness and more. PADI Seal Team includes doing some cool stuff in the pool, meeting friends and sharing in the adventure of the underwater world. To join the PADI Seal Team, a child must be 8 years of age or older. No prior experience with scuba diving is necessary, but kids should be comfortable in the water.
This class is Monday – Friday from 8:30 – 12:30pm.  A Camp Live Oak afternoon half day is available as an add on from 1:00pm – 3:30pm.  Extended care is also available from 3:30 – 6:00 pm.  Transportation from Sea Experience to Camp Live Oak at Birch State Park is included.
To REGISTER please call 954-773-5163.
2020 Dates
SEAL Team
June 22 – 26
July 13 – 17