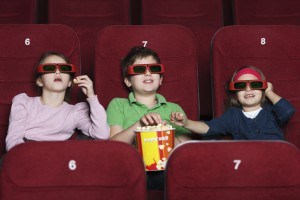 15 Classic Must-See Movies for Kids
As much as we want our kids to get outside and be active, there are times when it is just too cold or rainy to get out there. We have books for them to read, and educational games for them to play, but sometimes it is fun to just sit back and watch a good movie.
Of course, there are hundreds of new movies to choose from, many of which kids have seen time and time again. But what about the classics? The ones that we watched as kids, or that are a bit newer but are still a must see? If you're looking for some ideas on a cold winter night, check out the list below.
Finding Nemo
Not only does this movie teach your kids to "Just keep swimming" but it is full of brilliant colors, humor, and adventure.
The Wizard of Oz
A classic that should be watched by all, The Wizard of Oz teaches kids that it is safe to strike out and see new places, but that home is there to go back to in the end.
Babe
A talking pig and other farmyard animals might seem like a bad idea, but Babe pulled it off perfectly. As an adult we just need to put aside the fact that often farmyard animals don't get along quite so well.
The Lion King
A movie that many adults cry at, be prepared for your kids to as well. The animation is unbelievable, and the bad guys are a little scary, but all in all this movie is a must see for people of all ages.
Pinocchio
Not that most of us condone lesson teaching via movies, or lying, but what better way to get it into your child's head that lying is bad than by watching a movie like Pinocchio?
The Sound of Music
Most kids will love the wonderfully sung melodies in this classic musical. The landscape is also a sight, and it even throws in a bit of history, which your youngster may not catch the first time around.
The Black Stallion
If your child is in love with horses, make sure to rent them The Black Stallion. The images of a beautiful black horse running with his new human friend on a deserted beach are a sight not many will ever forget.
The Bear
Seen in many major motion pictures, Bart the grizzly bear plays a solitary male bear who confronts and befriends an orphaned bear cub. The unlikely pair quickly become friends, while Bart is doing his best to evade persistent hunters. With little human dialog, you and your kids can enjoy a quiet night with this one.
Bambi
As you likely do from when you were a kid, your kids will forever remember Bambi, Thumper and Flower. Aside from the sadness when Bambi loses his mother, this is a great family movie, especially for the little ones.
Harry Potter
All of the Harry Potter movies are great for kids and adults. It is probably best to introduce them to your kids when they are bit older and have a decent attention span. But keep in mind that as your child gets older, so too do the characters in these movies, making them a perfect set to watch over many years.
Shrek
If you're looking for something that everyone in the family will enjoy, Shrek is it. This movie started the little snippets and quips that are only for adults in movies, while keeping kids entertained.
The Muppets Movie
It's funny, it's filled with songs, and it has great special guests like Steve Martin and Richard Pryor. The best part is there are even more shows if your kids enjoy watching it.
Monsters Inc.
The best movie to teach your kids that there most likely aren't monsters in their closet, but also if there are, they aren't anything to be scared of.
Despicable Me
A funny movie that both kids and parents will enjoy, it can teach kids that family isn't always about just mom, dad and kids. But also about the people who come into your life for different reasons.
Old Yeller
Real-life sadness excluded, this movie tells the story of a boy and his dog, which many kids can relate to. A classic must-see.
Our list could go on and on, with many more movies to choose from. And this is not necessarily a list that we think is the best, but rather a list of excellent movies to choose from on a cold or rainy day.