Throughout the summer, campers will go on several field trips to nearby attractions.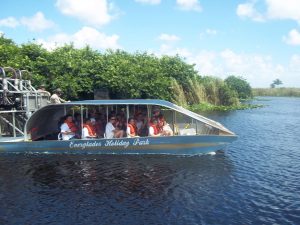 An integral part of our summer camp is the wonderful field trips to local educational facilities and attractions. Typically, field trips are booked to enforce concepts that are being covered in our Science programs, but on occasion, we love to give our campers a refreshing trip to the local water park!
Most field trips are completed within the normal camp day and the pickup times will remain the same. There are occasions that a late pick-up is required, but rest assured you will be notified upon your registration of these trips and times.  Below is a list of previous trips taken:
Riding airboats in the Florida Everglades
Snorkeling Coral Reefs in the Keys
Exploring an Organic Farm
Splashing on water slides at a local water park
Visiting a science museum
Up-close animal encounters
…and much more!