Cool weather Brings Perfect Winter Camp Days for Kids!
Vacation Time!
We offer Winter camp during Broward county's holiday sessions. Come and enjoy near perfect weather during these two weeks at either Birch State Park in Ft. Lauderdale or Dr. von Mizell – Eula Johnson State Park in Dania Beach. Busy holiday schedule? Our flexible daily camp options is sure to fit right in!
Winter camp will be offered from 9:00 – 3:30 with optional Extended care available. Make sure to pack a hearty lunch for this camp session as there is NO LUNCH SERVICE available.
Activities Include: Each day can include Sports, Art and Craft, Swimming (weather permitting) and Beach Play, Canoeing, Hiking, Archery, OR Fishing, and Hands on Science activity.
Week 1: Dec. 24 – 28
Week 2: Dec. 31 – Jan. 4 & Jan. 7th*
*No camp Tuesday, Dec. 25th & Jan. 1st. Jan. 7th camp day at Ft. Lauderdale location ONLY
Birch State Park, Ft. Lauderdale
Mizell Johnson State Park, Dania Beach

Regular camp day 9:00 – 3:30 PM
Extended Care 8:00 – 9:00 am & 3:30 – 5:30pm

Daily Rate: $65 per day; Sibling $60
Rate: Week 1 $250; Sibling $235
Week 2 $310*; Sibling $295 (includes Mon. Jan. 7th*)

Weekly AM Care: $12 wk 1/$15 wk 2*
AM Care Daily Rate: $5
Weekly PM Care: $20 wk 1/$25 wk 2*
PM Care Daily Rate: $10
Weekly AM & PM Care: $32 wk 1/$40 wk 2*
Daily AM & PM Daily: $15
*Monday, Jan 7th available at Birch Only. 10% Sibling Discount on Extended Care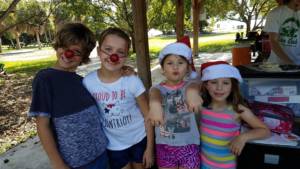 We are busy creating an AWESOME 2018 Winter Adventure Camp Program! Please check back regularly for program updates.
Winter Adventure Camp
Dec. 24 – 28, 2018
*All activities are age appropriate and subject to change. We do not make up days or give refunds for missed time.
Monday, Dec. 24th: Candy Canes and Snowflakes, Oh My!
Who will win the title of the Candy Cane King?! Canoe your way to a win on this sweet adventure!
Snowball fight…Let's make snow and Play!
Reindeer Races! Get to your destination first
Let's get crafty and make Sand dollar ornaments in Art!
Tuesday, Dec. 25th
No Camp, Merry Christmas!
Wednesday, Dec. 26th: Living off the Land
Guest Speaker, Florida State Park Ranger. Florida Native Americans
Learn how to make Natural insect repellent.
Man your bows and arrows, let's do archery!
Snack time…make yummy granola
Shelter building contest. Can your hut withstand the elements?
Thursday, Dec. 27th: Sugar and Spice and Everything Nice
Time to relax and go Fishing!
Cozy campfire…learn campfire safety and make yummy treats
Winter wonderland ginger bread house, let's design and create.
Let's play Capture the Flag
Friday, Dec. 28th: They slither, they crawl, let's learn about them all.
Come learn about the native reptiles that roam the park with the Ranger Mark
Floating (inflatable) alligators..Can you lasso one and canoe it in for the win?!
Beach game fun
Gooaaal! Soccer madness
Winter Adventure Camp
Dec. 31- Jan. 4
Monday, Dec. 31: New Year, New Adventures!
New "Green" Resolution What is your commitment to the Earth for 2019.
Let's Go Fishing
Celebrate with Chinese dragon puppets
Be Present…let's start the New Year with Yoga!
Countdown to the New Year and celebrate with friends
Fun Beach Play
Tuesday, Jan. 1st
No Camp, Happy New Year!
Wednesday, Jan. 2nd: Legends of the Sea
Steady hands and a focused mind…try Archery!
How did voyagers from long ago navigate the seas? Learn about these true adventurers and how they were able to discover new lands.
Design a ocean inspired shadow box.
Thursday, Jan. 3rd: A Plant's Life
Native Species vs. Exotic-Which is the strongest? Help the rangers remove these invasive species
Take time to smell the flowers; design your own mini flower bouquet
Relay Races and Beach Competitions
Canoe and Explore with friends
Friday, Jan. 4th
Smore's and a campfire. Let's gather with friends and celebrate
Aim and Release! Archery games
Scavenger Hunt, search for nature's treasures.
Water games! Get ready to get wet and have fun!