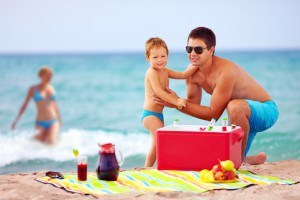 South Florida offers a world of awesome activities for kids. These 7 kid-friendly and parent-approved activities are sure to get your kids just as excited as you!
South Florida is full of sunshine, beaches and vast wildlife for kids to explore. Meaning your summer doesn't have to include one dull moment if you know where to find the best activities in town for kids. 
1. Go Biking At Biscayne Bay
Oleta River State Park is home to beautiful Biscayne Bay as well as miles of natural off-road bike trails. Some trails are geared for more experienced bikers but there are plenty of trails for novice riders too. Load up your family bikes and head over to Florida's largest urban park. Just make sure you head off on the right bike trail so you don't end up on a more difficult route than expected.
2. Have A Picnic On The Beach
Almost all of Florida's state beaches offer nice covered picnic benches near the water. With some help from your kids, pack up a portable feast that you can enjoy right on the coast. The gorgeous views and salty air will make your lunch taste that much better. It's like eating at a high-end restaurant but without the big bill. Plus, before and/or after you eat the kids can play along the sandy beach shore.
3. Check Out The Nesting Turtles At Dr. Von D. Mizell-Eula Johnson State Park
Dr. Von D. Mizell-Eula Johnson State Park is an awesome 310-acre beachfront park bustling with activity every day of the week, and that's because there is something to do for everyone. One of the awesome attractions at this park is the sea turtles.
Turtles build 200 to 300 nests each year at this popular nesting location. As a result, if you come at the right times you can see the nesting loggerhead turtles and maybe even some baby turtles too. This is the perfect opportunity to teach kids a thing or two about sea turtles. Kids love checking out the turtles; we should know, as this activity is part of our regular camp activities.
4. Take A Day Trip To Butterfly World
If you want to add some colorful smiles to your day take your kids to visit Butterfly World in Coconut Creek. The awesome butterfly park originally opened in 1988 and stands today as the world's largest butterfly park. This is the perfect place for a young family to come and explore, there are endless beautiful butterflies buzzing here and there, everywhere you look. Plus, it's not just a small little exhibit; the lush grounds seem to go on and on. There are over 10 acres of gardens and aviaries to enjoy all thanks to the founder Ronald Boender's obsession with botanical gardens and butterflies.
5. Snorkeling
Snorkeling is fun for the whole family, giving you a chance to explore coral reefs, colorful fish and more. Certain locations are more or less suitable for snorkeling with kids. The Alligator Reef is great because the waters are shallow and it doesn't require a long boat ride to get there. Sombrero Reef is another great spot with plenty of fish and underwater reefs. Snorkeling in the Florida Keys is popular but can be challenging to access due to a mandatory boat road to get there and back. Also, on some days the waves are a little challenging to handle. For newbie snorkelers it's best to start in a less trying location.
6. Spend A Day At The Museum
Taking kids to the museum is always a smart way to spend a day off from school. The goal is to pick the right museum so that kids don't become bored and turned off by museums in general. The Museum of Discovery and Science offers a world of hands-on activities for kids to participate in, as well as a five-story IMAX 3D theater. The museum is open every day of the year and cost $19 for adult admission and $15 for children between 2 and 12. If you have kids under 2-years-old they get in for free.
If your kid prefers art to science there is also the Young at Art Children's Museum. This museum gives kids the opportunity to visit a real cave, dig in ArtScapes, dance, create sculptures and learn a thing or two about recycled arts by making their own recycled puppet. Adult admission is $14, and admission for children over 1-year is $12.
7. Enroll Your Kids In Summer Camp
We are happy to keep your kids entertained and learning this summer! We work in conjunction with many of Florida's State parks to offer a uniquely enriching experience for campers and plenty of fun activities for kids.
If you are looking to add more fun to your kid's summer in South Florida, Camp Live Oak offers all of the learning, socialization and excitement your kid could want!