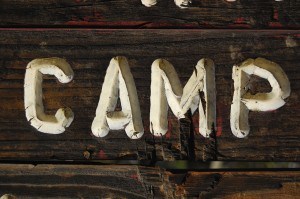 Summer camp is a great way for children to develop the skills, character and good sense they will need for adulthood. It can be one of the most rewarding experiences for kids, and benefits them in a variety of ways. Camps themselves are dedicated to providing a safe and educational environment for your child, and hire staff who are committed to this as well. Here are some specific reasons we think that kids should attend summer camp:
Physical Activity
Kids get a chance to spend hours and hours outside at summer camp. Each day involves both structured and unstructured activities that, as long as the weather cooperates, happen in the great outdoors. Most kids today spend a great deal of time indoors in class or doing homework. Their time at camp gets them in the fresh air and exercising.
Builds Confidence and Character
Kids at camp are away from parents, and often close friends. During this time they may feel a bit apprehensive, but also excited about doing new things and meeting new people. They learn to work in groups or teams, and gain confidence in their abilities by trying new activities.
Unplug from Technology
Most of what is done at camp is not done on a phone, computer or tablet. A call to Mom or Dad each day is fine, but other than that, kids are unplugged and detached from technology.
Lifelong Skills
Not only are kids participating in sports or activities that they already enjoy, but they are also trying new ones. Kids can discover that even though they already play soccer, they love tennis and are good at it. These new things can easily become life-long sports or hobbies kids enjoy for years to come.
Gain Independence
At camp kids can make some decisions on their own without the direction of parents or teachers. Camp staff is always there to help, but also gives kids the freedom to venture out and do what they like to do.
Playtime
Camp is always structured, and free playtime is required! Kids need some time to just relax and play, and camp affords them that luxury.
Socialize
Most children will meet a lot of new people while at camp. They will develop a more enhanced set of social skills while interacting with both new adults (camp staff) and new peers. This is an extremely important skill for children and young adults to learn before they venture out to college on their own.
Discover Nature
As we mentioned before, a lot of what is done at camp is done outside. The physical aspect of being outside is one plus, but the other is learning about and appreciating nature. At camp kids often learn about wildlife, vegetation and the weather.
Make Friends
The friends that kids meet at camp can last a lifetime. Kids are usually gone to camp for a week or more, and they spend 24/7 with their camp mates during that time. They often create strong bonds while doing activities, sharing stories or even just spending free time in their cabins.
Gain a Sense of Adventure
At camp kids are exposed to a lot of new things. People, nature, and new activities are just a few. Kids begin to get a sense of adventure at camp because so many things are new. They also start to feel more comfortable in new situations and when asked to do things in front of others.
Learn How to Work Hard
Children at camp are asked to do a lot of things they are unfamiliar with. This of course leads to experiencing some failure, but in a very low-stress and accepting environment. In addition, kids are asked to make goals for themselves and work towards them. They are rewarded for their hard work, and commended for trying, regardless of the outcome.
Make Memories
Last, but not least, kids at camp create memories that last a lifetime. Many will come back to camp year after year, and take with them memories that are treasured. They have stories to not only share with new campers, but also their parents, and children many years later.
Remember that it's not necessarily about the kind of camp your child attends, it could be geared towards a sport, or learning about the outdoors. But either way, all of these reasons are applicable. We hope your child enjoys their time at camp, and comes back feeling refreshed and ready for a new year!