"What moistens the lip and what brightens the eye? What calls back the past like the rich pumpkin pie?" ~ John Greenleaf Whittier
PIE ORDERS ARE CLOSED!  THANK YOU FOR YOUR SUPPORT!
Ahhh, the smell of autumn is in the air!  Soon families will gather, laughter will fill living rooms, and delicious smells will float through our homes. What a better way than to end a wonderful meal with a moist pumpkin OR apple pie!
Bring one or perhaps both of these homemade pastries to your family get together and help support Camp Live Oak in the process.  Since 2018 we have awarded close to $15,000 scholarships to families with limited resources.  This year all proceeds from our Autumn Pie drive will go towards our 2021 camper scholarship fund.
In addition, Camp Live Oak will also supports local organizations that assist families and individuals with food insecurities.  Besides purchasing a pie for you and your family to enjoy, you can also purchase a pie and Camp Live Oak with DONATE the pie to a family this Thanksgiving season.  Through your pie purchase, you will be contributing to Camp Live Oak's mission as well as helping local families in need. This is a perfect option for those who do not live locally and are unable to pick up a pie but would still like to support Camp Live Oak and families in our community.
The last day to place a pie order is Friday, Nov. 20th.  All orders are for local pick up only; no shipping or delivery is available.  All pies will be ready during the week of Monday, Nov. 23 to Nov. 25th and once your order is ready you will receive a call or email from our office.  COST:  $40 per pie.
All orders and donations can be done through our online system.  Simply click on the link below!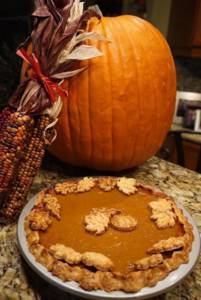 Delectable Pumpkin Pie
Nothing says Thanksgiving more than a moist pumpkin pie fragrant with cinnamon and nutmeg.   Topped with a dab of whip cream or enjoyed solo, this beautifully decorated pie will surely be the talk around the dinner table.  This 10″ pie has a soft, creamy texture with subtle hints of cinnamon, ginger and cloves!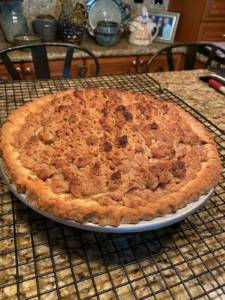 Apple Pie with Crunchy Crumbled Topping
Top off your Thanksgiving feast with this amazing traditional apple pie.  Made with a crunchy crumbled topping reminiscent of grandma's pies, this mouthwatering dessert might make you want to skip dinner and eat the apple pie first!   This 10″ pie has a light, buttery, flaky crust which holds delicately spiced mixture of Fuji and Granny Smith apples.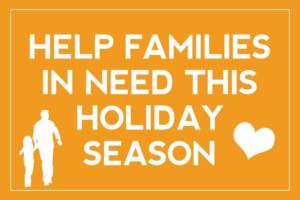 Give a Gift of Goodness
On average, 1 in 7 adults experience food insecurity and are oftentimes unsure of where they will get their next meal. Together we can make sure that local families in need will be able to enjoy the bounties of the holiday. Your pie purchase will not only support the Camp Live Oak scholarship fund but will also assist families with food insecurities during the Thanksgiving season.
Camp Live Oak will deliver and donate all purchased pies to a local food bank that helps individuals and families with food insecurities.